President Obama gave a speech on winding down Freddie Mac and Fannie Mae, the GSEs often blamed for the housing crisis and a darling of conservative ire. Government sponsored enterprises, or GSEs buy up mortgages from private lenders and the theory is to loosen up funds to stir additional lending. Right now, GSEs have guaranteed 87% of all mortgages. Yet, the President's speech was spattered with lies, spin and blame. Here are some lowlights.
Did you know homeowners were reckless with no mention of the derivatives, those mortgage backed securities now being bought up by the Federal Reserve, that fueled the housing bubble?
Over time, responsibility too often gave way to recklessness – on the part of lenders who sold loans to people who couldn't afford them, and buyers who knew they couldn't afford them.
We've made it harder for reckless buyers to buy homes they can't afford
Foreclosure statistics are amazingly tricky with little accuracy. Completed foreclosures estimates range from 4.5 million from January 2008 to over 20 million, counting the years of the start of the housing bubble collapse, 2006 and 2007. Right now there are 3.1 million foreclosed homes listed in police auction sites and a new book claims over 10 million families have been displaced. Regardless, blaming homeowners when jobs are low paying, non-existent, temporary and cannot pay for the rent of a cardboard box is unbelievably callous and just plain wrong. People lost their homes primarily because they lost their income and ability to earn, not because they were reckless. People were hoodwinked, lied to, given the runaround and sold a bill of goods, all the while getting their property and livelihoods sucked out right from under them.
Obama also seems to be killing the American dream of owning property entirely.
Step five: we should make sure families that don't want to buy a home, or can't yet afford to buy one, have a decent place to rent. In the run-up to the crisis, banks and the government too often made everyone feel like they had to own a home, even if they weren't ready. That's a mistake we shouldn't repeat. Instead, let's invest in affordable rental housing. And let's bring together cities and states to address local barriers that drive up rent for working families
This is actually huge, the land owning class has always been more powerful and making it easier for landlords to collect rents instead of Americans being able to invest in property, their own home, is another unraveling of the promise of FDR's New Deal. Owning property is one of the great social levelers and land ownership through history has been to the ruling classes.
The latest Census data shows homeownership rates are down to 1995 levels, 65%. Clearly this is not the American dream. Additionally these figures imply Wall Street investors, not families are buying up the homes as of late, pushing prices higher.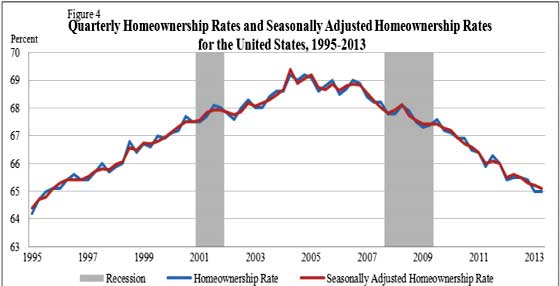 Meanwhile rents just continue to increase and with wages at $10/hr, one cannot afford by themselves even $735 a month. The median wages are so low, clearly fewer and fewer Americans can afford rent, never mind owning a home.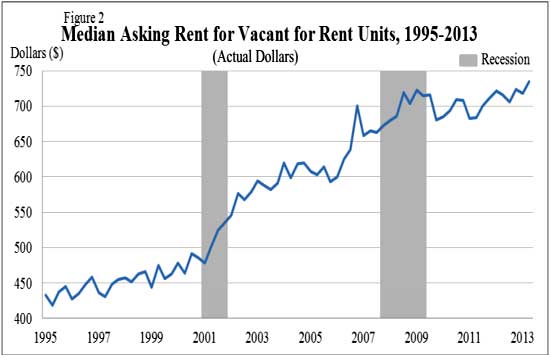 Yet Obama seems to promote drinking the Kool-Aid and puts the blame on the people and the GSEs, with the intent to close up shop on Fannie Mae and Freddie Mac.
That begins with winding down the companies known as Fannie Mae and Freddie Mac. For too long, these companies were allowed to make big profits buying mortgages, knowing that if their bets went bad, taxpayers would be left holding the bag. It was "heads we win, tails you lose." And it was wrong.
This makes little sense. Currently the GSEs have record profits and Fannie Mae has paid 90% of their bail out back. Subprime fines are still coming, along with civil lawsuits over mortgage backed securities. Wall Street was the cause yet banks were enabled to become even bigger.
One of the worst things yet, Obama tries to claim immigration helps the housing market. This is a notorious false claim put out by lobbyists representing various business interests. If anyone isn't aware, the United States already has the highest legal immigration levels in the world, so obviously if immigration would balloon the housing market due to just increased demand, none of the crisis would have ever happened. Corporate lobbyists are actually after foreign guest workers. These visas are temporary, not permanent and thus people on them probably won't be signing up for 30 year mortgages. Legalization for those here illegally is projected to lower wages, not raise them. The reality is few can afford a home on even $20/hr wages, never mind $10/hr. most low skilled jobs pay, so it is highly doubtful legalizing so many unskilled workers would enable them to purchase and hang onto these now overpriced again homes. Additionally, returning to housing bubble price levels is not a good idea, not with this much income inequality, career uncertainty and repressed wages in America. This immigration lie is so extreme it is akin to the Bush administration weapons of mass destruction lie to justify invading Iraq. If anything, there is more evidence illegal immigration enabled the housing bubble from cheap labor in construction to some here unauthorized obtaining subprime loans. This has nothing to do with the government. All of this was motivated by fast greed and private unscrupulous lenders packaging up these obscene, ripoff, subprime, liar loans into derivatives, which eventually collapsed the financial system.
This all leads back to the banks of course. They were the ones buying up toxic debt in bulk and repackaging it as derivatives and they were the ones were were all for enabling liar loans and signing people onto mortgages they could not possibly afford. Additionally why were people signing up for houses they could not afford? Because housing prices were simply too damn high for the income and wage levels of most Americans.
Obama is clearly promoting privatization, which will let the banks have even more control over the housing market. It will also push up mortgage rates, forcing even less to be able to afford a home. Hedge funds have been lobbying for privatization of the GSEs and it looks like, once again, Wall Street has won.
Private capital should take a bigger role in the mortgage market.
We reproduce a comment left on this site that summed up the outrage over agenda to privatize Fannie Mae and Freddie Mac:
One of the things FDR did for us was the National Housing Act, giving us Fannie Mae, which allowed millions of people to get out from under the thumb of property owners, to have their own place, which eventually provided a foundation for the "middle class" to build wealth, something that had not been possible for the average working family until the vehicle of a house appeared. For 70 years that was a cornerstone of preparing for the time when one could not earn income any longer. Even with that, a third of all people retired with less than $10,000 in the bank, but for a hundred million people or more that one thing gave them a way to secure a chunk of money, a roof over their head, a tie to a community, and a chance not to live in poverty.

To call for the end of that is a slap in the face to the memory of the people who fought and worked so hard to bring us out of the Depression caused by the greedy bankers and capitalists, and soils the memory of FDR. If might also destroy a chance at a future without poverty for a large number of people. This would leave the middle class at the mercy of private money, the same private money that destroyed the savings and retirements for millions of Americans in the past few years. Mentioned in the speech was the 30 year mortgage, something that the creation of Fannie Mae brought us, because private money thought it too risky. Given the price of housing, and the lack of decent jobs being created, this very nearly guarantees that a hundred million people will never, ever have the tangible financial benefits that home ownership brings, and instead will cede that benefit to the Mi$$ RobMe capitalists, to to the thieving finance companies, to those who will own wealth, while the rest of us will become their gardeners and maintenance people, beholden to some landlord

Why not reform Fannie Mae and let them continue to work for the people, instead of selling us out to the banks? Fannie and Freddie didn't start this. Private capital brought us this mess, and that's a fact, Jack.
Fundamentally pushing housing prices higher is simply enabling even more wealth inequality. It pushes the lower classes out of the housing market and is almost a wealth transfer to the rich. Why would the government want to enable even more wealth inequality is the question of the decade, yet that seems to be the current agenda.