Déjà vu, it's 2008 all over again. Why are gas prices soaring through the roof?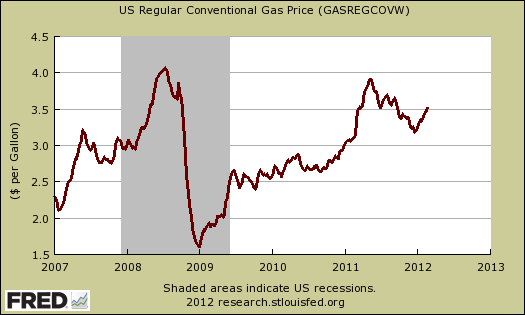 Some are revisiting oil speculation as the culprit. Commodity futures speculation always pops up in the public discourse the minute gas prices go above $3.65, yet nothing ever seems to come of it.
Our usual stupid political tricks, from tapping the strategic oil reserve to the GOP blaming Obama for gas prices, are in full swing. Isn't this all getting rather old? Wouldn't we all just like a stable price fluctuation in a key critical commodity upon which our economy and our empty pockets depend?
We know one thing, $5 gas can literally kill economic recovery. Oil shocks are correlated to recessions, as James Hamilton points out as do others. Below is a quarterly historical graph of real GDP percent change vs. the West Texas Intermediate average Oil Price. Notice the spikes in oil price and the grey recession bars.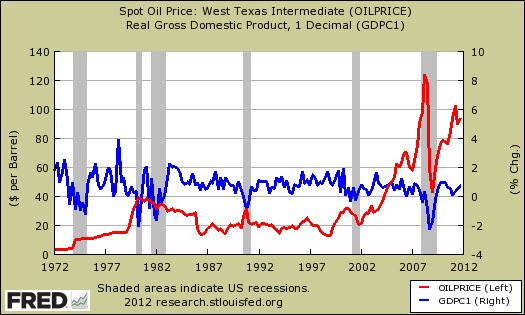 West Texas Intermediate was used simply because the data goes back far enough to capture the oil crises of the 1970's. As James Hamilton notes, Brent crude and the West Texas oil price have diverged, due to distribution systems.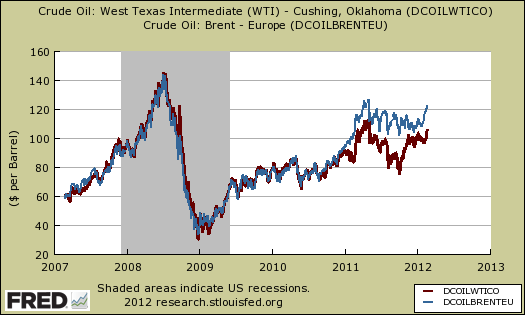 Two of the popular benchmarks are West Texas Intermediate, traded in Oklahoma, and North Sea Brent. Historically these two prices were quite close, and it didn't matter which one you referenced. But due to a lack of adequate transportation infrastructure in the United States, the two prices have diverged significantly over the last year.
Some say it's Iran and the tensions in the gulf causing Europe, in particular, to horde oil against future potential shortages.
We're seeing panic buying in Europe and Asia because they're absolutely convinced that they're not going to be able to buy Iranian oil or there's going to be some kind of conflict that disrupts the transport of oil through the Strait of Hormuz.... there is a lot of hoarding in case the worst-case scenario happens. Asian buyers have been buying up West African crude like it's going out of style.
Others point to nuclear threats and battleship movements in the straits of Hormuz. Is the sudden oil price spike, literally changing in minutes, only due to Iran?
In 2008, five oil speculators made off with $50 million by manipulating prices. Last fall, leaked documents proved oil speculation was behind the 2008 spike in prices.
The volume makes clear that not only were Goldman Sachs and Morgan Stanley, as well as pension and sovereign wealth funds, among the top participants in the oil speculation bubble, but so were politically connected hedge funds. Elliott Management, one of the top hedge funds revealed by the documents, is led by Paul Singer, a billionaire investor and a major donor to Karl Rove's network of attack groups and to Republicans on the Financial Services Committee.
So, now we know another thing, $5 gas can sway elections. We also know oil price increases and supply shortages can be used to justify war and military action.
With all that we know, what has happened to do something about curtailing speculative oil traders? Not much. While hearing about oil speculators jacking up prices, in terms of stopping excessive market manipulation and speculation, it's like ground hog day. Literally speculators, not producers and users of oil, now make up 70% of the total oil commodities trading.
CFTC Commissioner Bart Chilton seems to be hopping mad nothing has been done about oil speculation and said in a February 24th speech:
The CFTC has not yet been able to implement Congressionally-mandated position limits to put the brakes on excessive speculation in oil and other commodity markets. Meanwhile, trade associations representing Wall Street interests have sued us in federal court in order to impede our imposition of position limits.

So, I find myself repeating—and repeating—the same message: it's high time to kick it in gear and use the one tool we have to appropriately address high oil and gas prices.
In Chilton's speech are some incredible facts on what oil speculation does to the price of a barrel of crude. Yes, you and I are paying to line the pockets of Wall Street. What a surprise.
A Goldman Sachs study last year stated that each million barrels of net speculative length in the markets adds as much as 8 to 10 cents to the price of a barrel of crude oil. As of February 23, 2012, the CFTC Commitment of Traders Report showed that "managed money" held net positions in NYMEX crude oil contracts equivalent to 233.9 million barrels. Using the Goldman Sachs research figure, and multiplying 10 cents times 233.9 million would mean that, theoretically, there's a "speculative premium" of as much as $23.39 a barrel in the price of NYMEX crude oil.

Information Handlings Services (HIS), a global information company, has estimated that a $10 rise in the price of a barrel of crude oil translates into a 24 cent rise in the price of gas. Accordingly, the "speculative premium" of $23.39 a barrel translates into a 56 cent a gallon increase at the pump. In other words, each dollar increase in a barrel of oil equals a $.024 cent increase, $.24/10 = $.024), and $.024 x $23.39 per barrel equals $.56 per barrel.

If you drive a Honda Civic with a gas tank capacity of 13.2 gallons, that means the "speculative premium" costs you $7.39 every time you fill up (13.2 x $.56= $7.39).

If you drive a Ford Explorer with an 18.6 gas tank capacity, the total is $10.41 (18.6 x $.56 = $10.41).

And, for the Ford F150, the most popular pick-up in America, with a gas tank capacity of 26 gallons, it's $14.56 more per fill up (26 x $.56 = $14.56).

Multiplying each of these figures by 52 weeks in a year, if you fill up once a week, the Civic owner is putting out $384.28 more per year, the SUV owner $541.32 more, and the pickup owner $757.12 more.
Chilton even went on ABC news to talk about how speculative traders are raising the price of gas.
Well, well, it appears clear to us at least, we have at least one CFTC commissioner trying to do his job. You do the math on why we can't get anywhere.
Remember, soaring oil prices literally can cripple the entire economy. When will the people override Wall Street and stop this insanity?
Beyond conserve, all you can do is write your Congress and the President and demand they enact CFTC rules to stop oil speculation. The economy depends on it. So does your pocketbook. Literally as this article was written, prices increased another 10¢ down the street.