Imagine desperately needing a job. Looking at ads, you come across one that fits you perfectly. You read down and see this: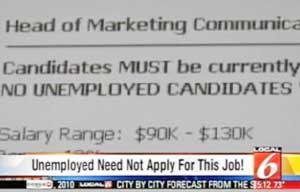 That is the new insanity of employers. They are refusing to hire the unemployed!
NELP did a survey of online job ads ad this is what they found:
NELP conducted its review over the four-week period that commenced on March 9, 2011 and ended on April 5, 2011. A NELP researcher reviewed job postings during that period that appeared on four of the nation's most prominent online job listing websites: CareerBuilder.com, Indeed.com, Monster.com, and Craigslist.com. The online research sought information on both employers and staffing firms that were specifically identified by name (often, job listings are posted anonymously), while also seeking a diverse sample from across the United States.

NELP's snapshot of jobs postings identified more than 150 ads that included exclusions based on current employment status, including 125 ads that identified specific companies by name. The overwhelming majority of the offending ads required that applicants "must be currently employed."

CareerBuilder.com and Indeed.com accounted for more than 75 percent of the exclusionary ads NELP identified. Staffing firms were prominently represented among those companies identified with the practice of excluding unemployed job seekers, accounting for about half of all the postings.

Significantly, the fact that NELP's relatively limited research yielded such a broad cross-section of exclusionary ads—with postings for jobs throughout the United States, by small, medium and large employers, for white collar, blue collar, and service sector jobs, at virtually every skill level—suggests that the practice of excluding unemployed job seekers could be far more extensive than depicted in this limited sample.
Congress Representatives DeLauro and Johnson introduced a new bill, the The Fair Employment Opportunity Act to stop this inane practice of refusing to consider people for a job who actually need one.
In a tough job market, where workers are competing against tens and sometimes hundreds of others for every available job opening, it is unjust for employers to discriminate against those who are unemployed. We have seen ample evidence that unemployed individuals are increasingly falling prey to discriminatory practices reducing their opportunities to be considered for a job," said Congresswoman DeLauro. "The Fair Employment Opportunity Act of 2011 would prohibit employers and employment agencies from discriminating against unemployed job-seekers, and ensure that all Americans have the same opportunities for employment."

"Discrimination against the unemployed – especially the long-term unemployed – in job ads and hiring practices flies in the face of what we stand for as a nation: Equal opportunity for all," said Rep. Johnson. "The Fair Employment Opportunity Act of 2011 will help us level the playing field and get people back to work.
Considering the insane Congressional Climate, doing the right thing like stopping this brazen discrimination against the unemployed, sounds like a long shot. That said, if you care, you should contact your representatives asking them to pass this bill.
Look, even Fox News covered this. That's how pathetic such job ads are. There are actually other types of discriminatory job ads out there, including foreign guest worker Visa holders only need apply.