Congressman Peter DeFazio smelled a rat and boy did he find one. A host of Oregon forest thinning and clearing jobs, created by the American Recovery Act and funded by taxpayer dollars, went to foreigners, brought over on H-2B guest worker visas, instead of unemployed Americans. DeFazio fought and obtained funding for those forest projects and jobs in the 2009 Stimulus bill. DeFazio assumed with so many unemployed and desperate U.S. Citizens in his state, of course those jobs would go to them. He was wrong.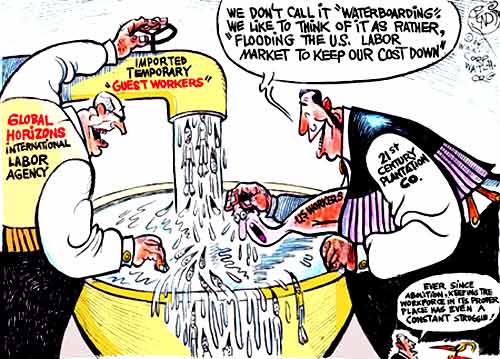 A local newspaper in Bend Oregon, actually did their job and started investigating how forest thinning work was going to foreigners instead of unemployed loggers in the area. Defazio read the newspaper.
In 2010, the Forest Service awarded Stimulus Recovery Act contracts to four employers totaling $7,140,782 for forestry work in Oregon. These four employers in turn hired 254 foreign guest workers. This is when unemployment in Oregon was hitting 15% in rural areas and loggers were hard hit.
Believe this or not, even with taxpayer dollars, supposedly to create jobs, employers are not required to recruit U.S. workers. That's right, you can be unemployed, pay taxes which in turn import foreign workers and deny Americans employment. Below is a local KATU news segment where one logger tells KATU the real unemployment rate in forestry work was over 40%.
The four contractors, using millions in taxpayer funded Stimulus money, literally discriminated against these Oregonians, simply because they were....Oregonians. From the DOL audit report requested by Congressman DeFazio:
Two workers who reported that the employer used discouraging language, such as references to age and the ability to speak another language, which are not valid conditions of employment.
Who are the culprits? GE Forestry, Medford Cutting Edge Forestry, Summitt Forestry, Inc. and Ponderosa Reforestations, Inc.
The wages paid exactly are hard to tell from the report. Quoted prevailing wages are also misreported and abused. It appears these foreigner guest workers were paid $8.41 to primarily $9.57 an hour. GE Forestry, Medford Cutting Edge Forestry, Summitt Forestry, Inc. and Ponderosa Reforestations, Inc. even lied and claimed they had hired 29 U.S. workers which the audit showed didn't actually work for them. In other words, Americans hired: 0, foreign guest workers hired: 254.
An additional 29 workers were reported by two employers as hired on the recruitment reports; however, none actually went to work for the employer.
The H-2B Visa is supposedly for unskilled foreign guest workers when no American is available. Who here believes we have an unskilled worker shortage? Here's the number of new H-2B visas, just one type of many visas, approved in 2009:
For the period October 1, 2009, through January 31, 2011, there were 7,007 H-2B applications requesting 169,363 positions submitted. Of these, 6,051 H-2B applications for 145,094 positions were certified or partially certified.
Pretty much the only requirement for employers in order to import foreign labor is to claim they couldn't find a U.S. citizen worker. The audit report goes into great detail on how these four contractors clearly didn't look for Americans or advertise the jobs. When some Americans showed up anyway looking for work, these contractors outright rejected them with a slew of blow off games.
Peter DeFazio on the report:
The goal of the stimulus bill was to put Americans back to work, not foreign nationals. It is obscene that U.S. companies were rewarded for abusing our American workers and immigration laws to undercut competition and squeeze more profits out of contracts," said DeFazio. "Oregonians have been logging for over a century, our workforce is one of the best in the world, and these contracts should have been awarded to companies that hire Oregon loggers. This report confirms that federal and state agencies failed to properly oversee the contracts and the companies investigated exploited federal loopholes to avoid hiring American workers. The Department of Labor must address the failings identified in the IG's report.
We can only hope Congresman DeFazio requests more audits. He simply needs to run a few on I.T., STEM, Tech jobs via H-1B and L-1 Visas and he'll find the exact same thing, anyone but an American need apply. He'll find the same lies about a worker or talent shortage all the while millions of Americans are losing their homes, jobs, retirement, health care and even don't have enough to eat.
This is just the tip of the iceberg on employers displacing American workers with foreigners. Additionally this story only come out because Congressman DeFazio pursued it and a local newspaper bothered to do a little investigative journalism. If other Congressional representatives looked for similar labor arbitrage in their districts, jobs being handed out to foreigners on guest worker Visas instead of Americans, it wouldn't take them long to find the exact same thing.
In America it's become anyone but an American when it comes to employers' hiring and jobs.
Case in point, these four unscrupulous employers claimed U.S. Citizens just weren't interested in the jobs. It's an obvious lie.
Although 146 U.S. workers were contacted by the three employers regarding possible employment, none were hired. Instead, 254 foreign workers were brought into the country for these jobs.
Don't believe it still? Watch this law firm giving a seminar on how not to hire an American. Literally there are law firms raking in millions, all to make sure U.S. corporations don't have to hire U.S. citizens and can import foreigners instead. Believe me, discrimination against U.S. citizens isn't just happening in the deep woods of Oregon.