The Wall Street Journal finally said what most working people know, there is no worker, or skills or talent shortage in America. The real problem is employers, their arcane human resources policies, and the demand for instant ready workers like some sort of ready to eat microwave meal.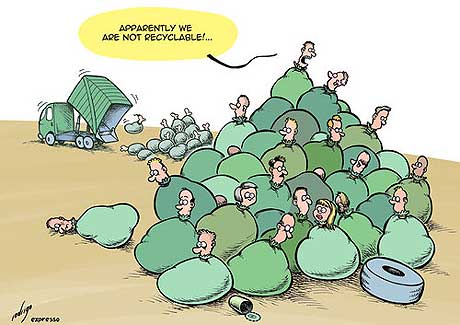 In why companies aren't getting the employees they need, Dr. Cappelli, Wharton Professor, finally spells it out.
Some of the complaints about skill shortages boil down to the fact that employers can't get candidates to accept jobs at the wages offered. That's an affordability problem, not a skill shortage. A real shortage means not being able to find appropriate candidates at market-clearing wages. We wouldn't say there is a shortage of diamonds when they are incredibly expensive; we can buy all we want at the prevailing prices.
That is assuredly true when it comes to multinational corporations demanding foreign guest workers and more flooding the U.S. labor market via corporate controlled immigration. The latest trick is to tack on a green card to a college degree, a lobbyist agenda that is introduced almost every Congressional session. All of these efforts squeeze out more Americans from educational and work opportunities in their own country.
American companies don't seem to do training anymore. Data are hard to come by, but we know that apprenticeship programs have largely disappeared, along with management-training programs.
That's also true. Back when, corporations, literally would pay for a full PhD, with full financial support, including salary. Yes, one had to be the cream of the crop, but corporations did it. They invested in their employees. The result was some of the greatest innovation strides in history and America was the great patent holder.
AT&T Bell Labs, IBM, Met Life, the list goes on and on of corporations who used to hire Americans, train Americans and support Americans. All of that is no more. Literally corporations have offshore outsourced employee investment, future opportunities, in addition to the actual jobs.
According to NACE, co-ops and internship opportunities for college students increased slightly in 2010, but this again is in comparison to the great slashing of internships and co-ops of 2008. Despite the increase, wages for internships and co-ops declined.
U.S. training expenditures—including payroll and spending on external products and services increased only $600 million to $52.8 billion for 2010, but this is misleading, for private employer training has been slashed in comparison to the 1990's.

Most people know learning is continual and most technical people can ramp-up on a new skill in a matter of a couple of weeks. Yet HR people continually look for some requisite time period of experience or some buzz phrase. Desired keywords don't pop-up in a resume and HR gives feedback via the delete key.
Even worse, employers slashed tuition reimbursement again and now only 44% of all employers offer any benefit. Additionally, University PhD fellowships have dropped and stipends are stymied.
Of course tuition increased again for 2012 by astounding amounts:
At four-year public colleges, in-state tuition and fees for the school year beginning this fall rose by an average of 8.3% from the previous year, to $8,244, amid declining support from state legislatures, according to annual reports from the College Board, a nonprofit that conducts collegiate research. The total cost including room and board rose 6% to $17,131,
The below table has the tuition breakdown.
| | | | | |
| --- | --- | --- | --- | --- |
| Sector | 2011-12 costs | 2010-11 costs | $ Change | % Change |
| Public Two-Year In-State | $2,963 | $2,727 | $236 | 8.7% |
| Public Four-Year In-State | $8,244 | $7,613 | $631 | 8.3% |
| Public Four-Year Out-of-State | $20,770 | $19,648 | $1,122 | 5.7% |
| Private Nonprofit Four-Year | $28,500 | $27,265 | $1,235 | 4.5% |
| For-Profit | $14,487 | $14,040 | $447 | 3.2% |
California just passed the ill-conceived Dream Act, which gives in-state tuition to illegal immigrants. Now check out California tuition rate increases and compare that to the out of state tuition rates, which U.S. citizens in other states cannot get.
. At California's four-year public colleges, in-state tuition and fees rose 21%—the highest increase in the nation—followed by jumps of 17% and 16% in Arizona and Washington, respectively. In Connecticut and South Carolina, tuition and fees rose only 2.5%.
Once again we see pretty much a complete disregard for the U.S. citizen worker, student and U.S. middle class. No jobs, no training, no investment in America and especially Americans. Opportunity denied at every turn to the point the U.S. has a gini coefficient above the entire industrialized world and third world social mobility. Maybe we should change the nation's title, United States of America, to Disposable American Land instead.