Last week the CBO released their report, The Budget and Economic Outlook: Fiscal Years 2012 to 2022. Deficits everywhere, high unemployment, lackluster economic growth and one very scary year, 2013. Below are the CBO economic forecasts.
CBO's Economic Projections for Calendar Years 2012 to 2022
2011
2012
2013
2014-2017
2018-2022
Q4 to Q4 Percentage Change
Real GDP
1.6
2.0
1.1
4.1
2.5
Nominal GDP
3.8
3.3
2.6
5.8
4.5
PCE price index
2.6
1.2
1.3
1.7
2.0
Core PCE price indexa
1.8
1.2
1.4
1.6
2.0
CPI
3.3
1.4
1.5
1.9
2.3
Core consumer price index
2.2
1.4
1.6
1.9
2.2
GDP price index
2.1
1.2
1.4
1.6
2.0
Employment Cost Index
1.7
2.2
3.8
3.5
3.7
Unemployment Rate (Q4)
8.7
8.9
9.2
5.6
5.3
Annual Percentage Change
Real GDP
1.7
2.2
1.0
4.0
2.5
Nominal GDP
3.9
3.6
2.4
5.6
4.6
Why did the CBO say 2013 is gonna be god awful? Spending constraints by draconian budget cuts that are scheduled. Yes, it's true, reduced government spending decreases economic growth when an economy is operating below it's potential.
That economic forecast reflects the stance of federal fiscal policy as specified by current law. Specifically, the forecast incorporates the expiration at the end of February of the payroll tax cut and emergency unemployment benefits that were extended for two months by the Temporary Payroll Tax Cut Continuation Act of 2011 (Public Law 112-78); the expiration of tax cuts that were extended by the Tax Relief, Unemployment Insurance Reauthorization, and Job Creation Act of 2010 (P.L. 111-312, referred to here as the 2010 tax act), as well as various other expiring tax provisions; and the constraints on spending imposed by the Budget Control Act of 2011 (P.L. 112-25). Altogether, according to CBO's forecast, federal fiscal policy under current law will restrain economic growth this year and significantly restrain growth in 2013, but the resulting reduction in budget deficits will boost output and income later in the decade.
One of the biggest causes of budget deficits are the Bush tax cuts, or should we say Obama's tax cuts since they were extended. From a summary graph below, we can see the deficits balloon if current tax law is extended.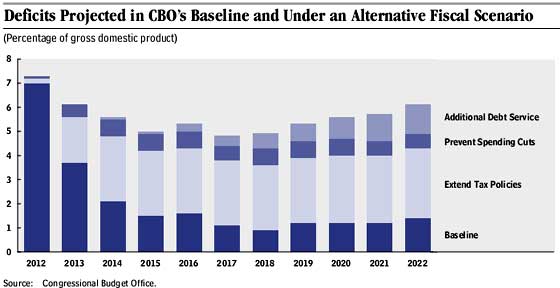 There is one alarming truth to the CBO report. The Bush tax cuts have simply got to go.
Additionally, TARP losses finally showed up.
The Troubled Asset Relief Program will log losses of $23 billion in fiscal 2012, according to the nonpartisan Congressional Budget Office, in a reversal of $37 billion in gains recorded in the prior year.

The net swing of $61 billion in the government's emergency rescue fund that was instituted at the height of the 2008 financial crisis largely reflects declines in share prices of two companies in which the government still holds substantial shares: American International Group Inc. and General Motors Co.
It appears, the GOP in the House of Representatives, seemingly doesn't like the CBO's information, or any semblance of CBO objectivity. They literally passed a bill in the House of Representatives to change the way CBO scores deficits, as an alternate.
On Feb. 3, the House passed H.R. 3582, the Pro-Growth Budgeting Act of 2012. Innocuous on the surface, its long-term purpose is to institutionalize Republican economic policy into the very fabric of budgetary analysis.
The dynamic calculation would be supplementary and not replace the current official scoring methodology, but the obvious long-term goal is to require official revenue estimates to incorporate "Laffer curve" effects in order to make it easier to cut taxes and harder to raise them.
The super rich must love their tax cuts. In response to the CBO report, some Republican congrssional staffers questioned the accuracy and objectivity of the CBO. Others, more practical, point out the CBO often isn't right in projecting deficits, which of course the CBO denies. Unfortunately, corruption in economics, statistics does exist, although we usually assign such immoral ineptitude to private think tanks with agendas, perpetually publishing white paper spin.
Yet here we are with the tax cut crazy GOP who hate social safety nets and John Maynard Keynes. Bummer Keynesian economics actually works pretty well for economic forecasts. Real bummer social safety nets are about the only thing most Americans have left.
What a sad day for government, objectivity and accuracy. Don't like what a Congressional service group, teaming with economists, statisticians and researchers, has to say about in spite of the Congressional Budget Office being set up to assure they are not subject to political pressure and influence? Why change the law and make the CBO claim what you want!
Wow.